Does Israel Have a Future? – Part 6

Norbert Lieth and Johannes Pflaum

In contrast to the doctrines espoused by replacement theologians, the biblical promise of Israel's future salvation isn't contingent on adherence to the Mosaic Covenant, which was conditional, but on the Abrahamic Covenant.

Conduct Becoming

Dr. Ron J. Bigalke

The Sermon on the Mount is one of Jesus' most popular teachings, which is evident in the fact that the Lord repeated many of the truths within it. The message is primarily addressed to disciples, in order to encourage them to live righteously in view of the coming kingdom.
---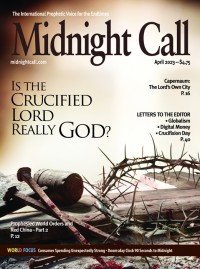 Midnight Call April 2023
• Is the Crucified Lord Really God?
• Capernaum: The Lord's Own City
• The Power of the Exalted Christ for a Suffering Church
• How Much Longer, Lord?
• Prophesied World Orders and Red China
---